Winter Racing at Shangri La Casino in Minsk
Looking for an idea for a grand evening in February? Visit Shangri La Casino in Minsk on the 17th of February. You will get a lot of emotions thanks to the Winter Racing program. Shangri La Minsk is a part of a network of VIP casinos in the CIS, owned by Storm International. Strong prizes are the strength of the company.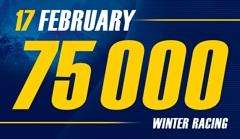 CEO of Storm International, Darren Keane said, that 75,000 will be played during the Winter Racing show. Each guest can receive the main prize. To participate in the draw, it is enough to come and get an entrance ticket.
The entertainment part will start at 8 p.m. A bright show has been prepared for the guests, dozens of popular casino games and slot machines, specified Darren Keane, Storm International. Winter Racing guarantees you a bright night!